Girls Aloud Promotions
Nintendo DS
– In 2008 Nintendo signed Girls Aloud to front a series of TV ad campaigns. The ad includes the five singers playing games on the handheld Nintendo DS in the studio and as they relax at home.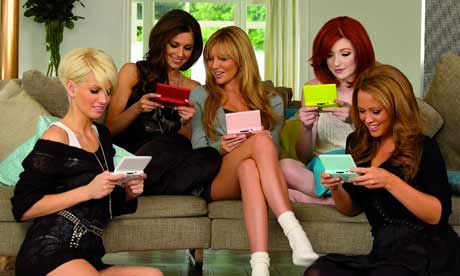 'We all love our Nintendo DS's…there's always something to keep us laughing and entertained - the different DS colours mean we never get them mixed up too!" say the band.
http://www.dailymail.co.uk/tvshowbiz/article-1079083/At-home-Girls-Aloud-group-launch-Nintendo-games-console.html#ixzz1bo5alCVv
KitKat – in 2008 all five of the girl band members stared in an advertising campaign for KitKat, KitKat's biggest product launch in nearly ten years. The ad includes the five members of the girl band walking down the red carpet being snapped by paparazzi and cheered by their fans. The girl band reportedly signed a million pound contract with Nestle to advertise the new KitKat Senses chocolate bar. The advert was made by JWT with media planning and buying handled by Mindshare. http://www.guardian.co.uk/media/2008/apr/07/advertising
Girls Aloud have also have their own line of cosmetics such as false eyelashes sold in selected retail outlets.
The eyelashes are styled to be as similar to each individual band member as possible. This way the consumer is buying the product under the impression that they can look like that particular singer if they buy their fake eyelashes. This is a great selling technique as young fans will buy the product wanting to look like their role models.
Other promotions include calendars, Barbie dolls, and their very own make-up range.
It is clear from the promotions and campaigns that the girl band is focusing mainly on the younger female audience. With the main idea being used that if you buy this product you will look that these women.